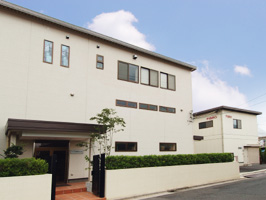 Fibro Pharmaceutical Co., Ltd.(as "Fibro") was found in Feb.1977 in Tokyo, Japan.
Our name "FIBRO", which came from the word "Fibre ( Fiber)". We are using the dietary fiber - Psyllium, to produce our Isagol® series, which have been certificated by Japan's Ministry of Health as FOSHU.


Our product is our message
At Fibro, we develop our own unique preventive-medicine products.
We use our own extensive knowledge base and global network to uncover new ingredients, and exercise a boundless spirit of discovery and creative originality in coming up with product ideas. We work closely with medical institutions to perform research and testing, and apply industry-standard technical practices in manufacturing.
At every stage, beginning with the development of initial product concepts and carrying on through research and development, production, and quality management, we are driven by our desire to help people enjoy healthier, longer lives. Fibro products embody that sentiment – we put ourselves into our products and our products are our message.
Profile
| | |
| --- | --- |
| Company Name | Fibro Pharmaceutical Co., Ltd. |
| Board Members | Chairman : Tomoyoshi Yasuhara |
| | Chief Executive Officer : Yuji Kubota |
| | Chief Director : Toshimi Imamura |
| | Director : Motoki Matsumoto |
| Establishment | February 1977 |
| Captial | 25,000,000 Yen |
| Office | Headquarters / Main Factory |
| | 3-10-6, Yazaike, Adachi-ku, Tokyo, Japan 123-0863 |
| | TEL : +81-3-3855-7011 ; FAX : +81-3-3855-7016 |
| | Akasaka Office |
| | 3F, Dai-ni Toramomon Buliding, 1-5-12, Akasaka, |
| | Minato-ku, Tokyo, Japan 107-0052 |
| | TEL : +81-3-3587-1356 ; FAX : +81-3-3587-1329 |
| Main Businesses | Manufacture, import and sales of pharmaceuticals and cosmetics |
| | Manufacture and sales of health foods and health food ingredients |
| | Class 2 Medical Device Manufacturing and Sales |
| | Pharmaceutical Manufacturing |
| | Pharmaceutical Import and Sales |
| | Pharmaceutical Sales |
| | Cosmetics Import and Sales |
| | Powdered Food Product Manufacturing |
History
| | |
| --- | --- |
| July 1987 | Acquired Pharmaceutical Manufacturing License |
| August 1991 | Acquired Powdered Food Product Manufacturing License |
| July 1993 | Acquired Cosmetics Import and Sales License |
| July 1994 | Acquired Pharmaceutical Import and Sales License |
| November 1996 | "Jelly Juice Isagol" becomes the first product with Psyllium seed husks as its main ingredient to win the approval of Japan's Ministry of Health, Labour and Welfare as a Food for Specified Health Use (FOSHU) |
| June 1999 | Gained approval to manufacture the non-prescription cathartic agent "Onepolax" and authorization to supplement the list of approved products |
| July 1999 | Acquired Pharmaceutical Sales License |
| July 2000 | Acquired Powdered Food Product Manufacturing License |
| August 2005 | Acquired Class 2 Medical Device Manufacturing and Sales License |
| September 2005 | Acquired authorizations for 6 non-prescription pharmaceuti-cal 210-prescription herbal medicines, 6 non-prescription cathartic agents, 5 other 210-prescription herbal medicines, and 6 FOSHU Isagol Series products |
Industry Association Memberships
Japan Kampo Medicine Manufacturers Association ( JKMA )
Japan Direct Selling Pharmaceutical Manufacturers Association ( JDSPA )
Japan Health Food and Nutrition Food Association (JHNFA), Adachi Food Hygiene Association
Formal Bussiness Alliance
Zhangzhou Pien Tze Huang Pharmaceutical Co., Ltd. ( Fujian, China )